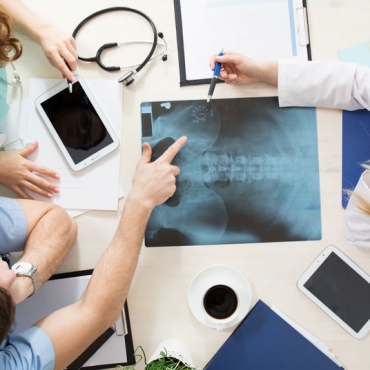 Canadian Osteopathic Center
Canadian Osteopathic Center is the international osteopathic organization specializing in the restoration and maintenance of health through osteopathic techniques.
All the specialists of the center are highly qualified osteopaths who had many years of special education and were certified by diplomas of well-known Canadian and European osteopathic colleges, the founder and director of which is Professor of Osteopathy Philippe Druelle, D.O, the founder of the first osteopathic educational institution in Canada - Collège d'Études Ostéopathiques.

Collège d'Études Ostéopathiques (CEO), Montreal-Quebec-Halifax.
Canadian College of Osteopathy (CCO), Toronto-Winnipeg-Vancouver.
Swiss International College of Osteopathy (SICO), Swiss.
Deutschen Osteopathie Kolleg (DOK), Deutschland

For this reason the founders took the decision to name the Center - Canadian Osteopathic Center. The osteopaths working in our Center undergo a thorough authentication of their diplomas. Only the osteopaths who have valid diplomas of osteopathic, colleges - CEO, CCO, SICO, DOK - are employed by the Center.
Everyone interested in osteopathic treatment can enter the website of our Center, see the profiles of our experts and verify the authenticity of their diplomas. All the specialists of our Center have a personal page on the website, where everyone can find all necessary information - the photo of the specialist, the photo of the diploma with the registration number, information about the college he graduated from, and other information concerning his osteopathic activity.
The osteopaths of our center live and work in different countries of the world. This enables those looking for osteopathic treatment to find a certified osteopath close to their place of residence. For convenience of the search on the Center site, all osteopaths are listed according to countries and cities of the world. The personal page of the specialist specifies the country, the city, the address, the phone and the e-mail address for communication.
The osteopaths of the Center are independent specialists and take patients directly. This system facilitates the procedure of making the choice of a specialist, making an appointment and then taking subsequent treatment of the patient without unnecessary contact with the Center.
For appointment with the selected specialist, one must enter the website of the Center and go to the personal page of the osteopath, where the patient has the opportunity to directly call or schedule an appointment. Osteopathic treatment of patients in our centre is done in accordance with the international norms and standards of osteopathic education. Osteopaths of the Center regularly upgrade their skills by attending seminars of post-graduate osteopathic education.
Our goal is your confidence in the osteopaths of the Center and the possibility of an easy and quick search of osteopaths around the world to assure the restoration of your health.

We want to be closer to those who need us, so the slogan of our Center is,
Always with you around the world - Canadian Osteopathic Center